Monthly Archives: January 2015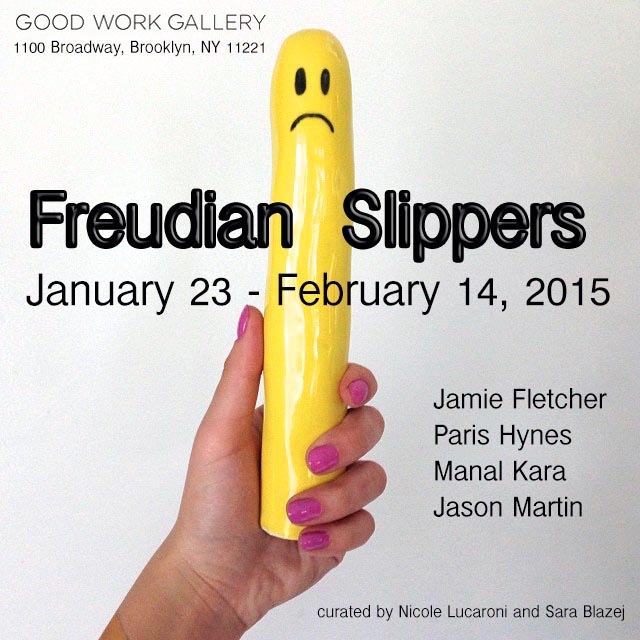 Freudian Slippers
Jan 23 – Feb 14th
Opening reception:
Friday, Jan 23 from 6-9pm
After Party will follow at Lone Wolf Bar located conveniently near the gallery at 1089 Broadway.
Curated by Nicole Lucaroni and Sara Blazej
Featuring: Jamie Fletcher, Paris Hynes, Manal Kara, and Jason Martin
Good Work Gallery presents Freudian Slippers, an exhibition which depicts the con- stantly evolving significance of fetish aesthetics in art, and explores a subversion of power conventions interpreted through creative means.
The various aesthetics of fetish culture have deep art history lineage. Since nascent documentation over a century ago, imagery evoking submissiveness, the Gay un- derground, and play with power dynamics has proliferated itself into a mainstream consciousness through standard (and non-standard) media representation. Major social transformation and sexual revolution have allowed for altered and heightened percep- tions of desire to reshape and broaden the cultural landscape of fetishism today. In this exhibition, the subversive and taboo topic is skewed with humor, play, and practicality through form. With a tongue-in-cheek attitude, these artists attempt to bring the viewer closer to understanding and challenging their own perspectives on sexuality and fetish.
Jamie Fletcher
The "leather daddy" and "gimp" are two of the most recognizable fetishes we see. They have been around for years in gay eroti- cism, and have a long history in sadomasochistic fantasy. We continually see versions of this aesthetic in many current forms of media, such as films, advertisements, television, and routinely gracing fashion runways. In Fletcher's work, however, we see a more painterly vision of this fetish, and with a woman's perspective. Chains, masks, leather, and male-on male-submission are idealized – something not traditionally idealized in a hetero-normative world – and used to subtly express her struggles with her own femininity. Fletcher currently works and resides in NYC.
Paris Hynes
Paris Hynes' series of oil paintings depicts figures in fetish attire – typically the iconic bondage suit, or gimp suit. Combining
the visual extreme of latex-covered bodies with the humorously banal way in which they are presented – standing alongside a tall potted houseplant, or confronting the viewer as a masked bust – Hynes pokes fun at both traditional portraiture as well as the perception of fetishists as deviant Others. He sources the images for these works from the Internet by culling photographs from deep fetish forums and blogs. He also uses commercial photos of products on bondage gear websites. Hynes' carefully seductive rendering of the latex surfaces reveal a fixation on the textural qualities of the costumes, and suggest a conscious lean toward a more aesthetic appreciation of the BDSM experience. He lives and works in Brooklyn, NY.
Manell Kara
Her work takes traditional forms of houseware and décor, such as vases, cups and mugs, and undermines the original homemaker intention with the humorous use of breasts and penises. Conversely, her S&M product line, White Worm, flips the "evil sex dun- geon" look of most S&M toys and tools with its lighthearted flair of electric colors and playful new shapes. Kara is a Chicago- based artist and Dominatrix, and her works can also be found in local Brooklyn-based boutiques and showrooms.
Jason Martin
Jason Martin is an artist and musician who has been producing television, video, photography and other forms of media since the early '80s. His most recent performances and videos are part of an ongoing project named Animal Power Systems, a species and gender-queer exploration channeled through hybrid beings from otherworldly origin. The first appearance of his wolf character was used in the LP cover art for his band Brown Cuts Neighbors and the public broadcast TV show by the same name. His draw- ings elicit a mix of power dynamics veiled in the use of fetish roleplaying games and cartoon imagery. Martin is currently based in upstate New York and performs in NYC at many of its alternative venues.
Opening hours: Every Saturday & Sunday, Jan 24 – Feb 14, 2014. 12 PM – 6 PM.
 ***